How to Promote Yourself: Discover The Secrets That Will Give You an Unfair Advantage
Ok, so you can't wait to get started with your new career, but wait a minute!
The market may be ready for you, but you're not yet ready for the market. If you want to capitalize on the opportunity, the way you present your services is of critical importance. They say you never get a second chance to make a first impression – so you have to make the first impression count.
Let's say you decide to order some Christmas gifts from an online shop. It seems like a great way of saving time, so you look for a likely-sounding store in Yahoo! Gary's Gift Grotto seems to fit the bill, so you click through.
Unfortunately, the site is so graphically intensive that it takes ages for the home page to load. When it eventually does, you discover that there is no 'search' facility to help you find the products you want. You try to browse through the listings, but several times you get a 'Page not found' error.
What are you going to do?
Will you persevere, figure out how to place an order and hope that Gary and his pals deliver in time for Christmas? Of course not. You'll hit the 'back' button and move on to someone else.
Behind the scenes, it could be that Gary's Gift Grotto is a wonderfully-efficient enterprise. They may offer the lowest prices, the largest stock, the fastest delivery times and the best customer service. But it's all for nothing. The first impression didn't cut the ice, and another customer bites the dust.
So how do you make a good first impression? The answer to that question lies in preparation. Before you launch into a marketing campaign, you need to think about how you and your service will be perceived by potential customers, and how you can turn that to advantage. If you can convey an image of professionalism and expertise from the first moment of contact, you are half way towards securing a contract.
With that in mind, let's start with one of your most important marketing tools, and find out.
How To Promote Yourself-Rocket Your Résumé
If a client is seriously interested in using your services, the first thing you will be asked to do is to forward your résumé. And here is the perfect opportunity to blow the prospect's socks off and leave your competitors floundering.
No doubt you already have a résumé prepared, so now I'd like you to find a copy and examine it closely.
I bet I can tell you how it goes.
It probably offers a factual and orderly summary of every facet of your career to date, plus a list of your qualifications, hobbies, interests and aspirations. The structure is likely to be similar to this:
Is that about right? Great. This is what I want you to do…
Hold the pages with both hands at the top, the first finger and thumb of each hand gripping the paper at the center. Now pull your left hand towards your chest, while simultaneously pushing your right hand away. Continue this movement until you have ripped the pages completely in two. Crumple up the two parts and throw them in the trash…
Traditional résumés make great personal histories, but they're no use for marketing. If you want to earn real money as a freelancer, you need a profile that really sells!
Imagine a McDonald's radio ad that went something like this:
"McDonald's Corporation has been in business since 1953 and now has over 200,000 restaurants worldwide. This fast-food chain is renowned for the consistent quality of its products and an enduring commitment to service."
Now, would that make you want to rush out and buy a Big Mac?
No, it certainly wouldn't, you're more likely to hear something like this.
"Try the new Triple Mega Mac, the biggest, juiciest burger you've ever tasted. Buy one today and get one free."
What's The Difference?
Benefits, benefits and more benefits. This ad 'sells the sizzle', and shows you exactly what you get in return for your money – taste, quantity and value. Any information which doesn't persuade the customer to buy is ruthlessly cut. Your résumé should be equally effective.
It's your prime selling tool – your big chance to communicate the benefits of using you, instead of someone else. In fact, a résumé alone isn't enough. You need a hard-hitting presentation pack.
How To Promote Yourself-Create a Presentation Pack
When you use a presentation pack, sales become much easier to achieve.
Gone are the days when clients will pour over your résumé, ask for more information then dither and hesitated some more.
When you send a pack by email or through the post, providing the prospect with all the information needed to make a decision. More often that not, you will get a call in reply saying:
Great! When can you start?
So What Goes Into Presentation Packs?
Usually, they will include:
A one-page personal profile
An up-to-date client list
A selection of relevant testimonials
A few samples of related work
A personalized covering letter.
Each of these is clearly focused, providing concise information that demonstrates why you would be ideal for the project in hand. Together, they provide a complete sales pitch that hammers home a wealth of important benefits.
How To Promote Yourself-Make Your Personal Profile
This is the replacement for your traditional résumé. Remember that your prospective client is not looking for a long-term employee, but for a short-term solution to an immediate requirement. If things go well, it may turn out to be a long-term relationship, but that's all in the future. Right now, the client wants to know if you can deliver a specific service with a high standard of quality.
And that's why a conventional résumé just doesn't work. Take a look back at Joe's résumé, and consider the obstacles it presents for the prospect.
A – Hidden benefits
Joe's résumé gets off to a poor start. The client wants to know what Joe can do, but instead Joe forces him to read through all his personal details. Contact details are important, of course, but here they are taking up prime selling space. The client won't need contact information until he has read the document and decides to pursue things further.
Then we reach Joe's career objective. Unfortunately, however, the client couldn't care less what Joe wants to achieve. She's only interested in her objective, and how you will help her achieve it. Anything else is simply a distraction.
Next we reach education. Having a relevant degree is a major asset, but having the right experience is even more critical. So a paragraph on education is slowing the prospect down, and increasing the chance that she will never get as far as reading about skills and experience.
B – No 'sizzle'
Then we get to skills and experience, cunningly hidden under the heading Employment History. This heading is not only dull, it is again focused on Joe, and not on the customer.
A heading like Skills and Expertise would be more likely to attract her attention. But if the heading is dull, it's nothing compared to the job descriptions.
The language is passive, and totally impersonal – not so much as an I to inject a little life and interest. What we have is simply an incredibly boring list of career steps.
C. Irrelevant information
Additional information? Who cares? Unless you can pick up on a point and show its relevance to the job in hand, you are simply wasting the prospects time, and increasing the chance of your résumé reaching the circular file.
D. Poor structure
Finally, we reach 'Computer Skills'. But as this is the real meat of the issue, why hide this section at the end?
The References section doesn't belong here, either. If you've got good references, these should be included in the pack, so that the prospect has all supporting information to hand. We'll look at this point again under 'How to get great testimonials'.
AIDA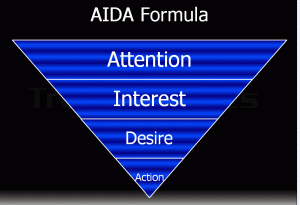 So now we've seen what's wrong with a traditional résumé, let's see if we can do something better. Let's build a personal profile page that really sells your skills and expertise.
The basic principles of selling remain the same, regardless of whether you're selling baked beans or consultancy skills.
So we can take the most successful sales techniques used to market products worldwide, and apply them to your profile. And the most popular and successful approach to writing copy that sells is:
AIDA … which stands for … Attention … Interest … Desire … Action
It's a simple formula, but still very effective. You aim to capture the prospects attention quickly, then stimulate interest by showing the benefits. You provide enough information to generate a desire for your service, then encourage them to take action by getting in touch.
In the case of your personal profile, you might use the AIDA formula to produce a structure like this:
Write a benefit-driven summary paragraph that captures attention. This will highlight your key strengths, and shows why you are the perfect choice for relevant projects.
Generate interest by listing your key skills and competencies in bullet point format, so that the prospect can immediately see what you have to offer.
Demonstrate the depth of these skills by showing how they have developed during the course of your career, creating a desire to find out more.
Encourage the prospect to take immediate action by providing all necessary contact details at the end of your profile.
Hey, This Guy Sounds Good!
I think I'll give him call, just in case I redesign my corporate database. So what have we done? Well, we have:
Replaced the rather dull word résumé with profile, which suggests a more interesting document
Supported this with a subheading, Freelance Programmer and
Database Consultant, so that the prospect can see exactly what skills are on offer
Stressed the benefits to the client in the summary (deliver quality work your projects remain on schedule)
Written in the first person (I can)
Used active, positive language (deliver, help, gained, offer)
Supported the claims with facts (degree, relevant experience)
Mentioned major clients, to reassure the prospect
Demonstrated appropriate experience through recent projects
Ended with a 'call to action' and key contact details.
How To Promote Yourself-Get The Most From Your Client List
A strong client list is perhaps one of the most valuable assets you can acquire during your freelance career. A wide selection of clients shows that you have a broad range of experience. And if you can name some well-respected organizations in your list, you will immediately be taken more seriously as a potential freelance.
Of course, if you're just setting out on your freelance career, you will not have many clients to list. If that's the case, simply omit this part of your presentation pack for the time being. But as soon as you have some jobs under your belt, create a list and use them to advantage.
You don't need to list them alphabetically. On the contrary, you'll want to name your big guns first to make a strong impression as quickly as possible. If you have some impressive clients, a simple list may be all you need. But if you're still building up, or your customers are individuals or small organizations, you can add further information, such as the kind of work undertaken for each company.
How To Promote Yourself-Get Great Testimonials
If there is one element that will convince your prospects faster than anything else, it's a great set of testimonials. After all, it's easy for you to make claims about yourself that are somewhat exaggerated. A potential client may be impressed by your résumé, but still unsure. But if you back up a strong résumé with rock-solid recommendations from existing clients, you've virtually closed the sale.
The trouble is, clients rarely send testimonials. If they think your work is great, you may get a 'thank you' call or two, but you are unlikely to get anything in writing. So how do you get a great testimonial? There's only one way. Ask!
In many cases, a client will be happy to recommend your services. You just need to persuade them to put pen to paper – or finger to keyboard. The best way to do this is to send a letter, outlining your request, and including a self-addressed stamped envelope.
Wording the letter is a delicate matter, as you don't want to put the client under undue pressure.
On the other hand, if you don't ask, you don't get – it's as simple as that. You might write something like this:
Dear Jessica,
Thanks for asking me to help with your recent projects, and I trust they are all progressing well.
I am currently updating my résumé and portfolio, and would like to include recent testimonials from satisfied clients. If you are happy with the work I have completed for you to date, it would be very helpful if you would consider writing a short testimonial.
Whilst I understand that you are busy, I am sure you appreciate this will help potential clients reach a decision more easily. Your cooperation would be much appreciated, but if you would prefer not to respond for any reason, please just discard this email.
I hope to work with you on many more projects in the future, and look forward to hearing from you soon.
Best wishes,
Your Name
How To Promote Yourself-Build A Powerful Portfolio
If the proof of the pudding is in the eating, the proof of your expertise is in your samples.
Building up a good portfolio is an essential element in developing your career and how to promote yourself effectively. As time goes on, you will undertake an ever-wider range of projects, allowing you to build up a diverse portfolio. So whatever a client is looking for, there's a growing chance that you will be able to demonstrate relevant expertise.
Having experience of exactly the right kind of work can be surprisingly important on how you promote yourself. Clients have an unfortunate habit of pigeonholing people and skills. Someone looking for a freelancer to take photographs for an annual report, for example, may demand a photographer with an impressive portfolio in this field. Although any professional photographer may be able to undertake the project with ease, those with no annual reports to show may never be considered.
Although this can be frustrating, it demonstrates the importance of keeping samples from every job you undertake. If you are involved in producing printed materials – magazines, brochures, adverts, etc. – be sure to get hold of a file copy for your records.
In many cases, you will have to go out of your way to get them, but it is important to persevere on how to promote yourself effectively. If you are, say, an interior designer or a landscape gardener, remember to take photos of every project, preferably both before and after.
Once you have a good portfolio, you can then select appropriate items to send to individual prospects, turning each pack you mail out into a personalized presentation.
How To Promote Yourself-Make The Perfect Cover Letter
The cover letter may be the last item you think about, but it will most likely be the first one how to promote yourself that your prospect reads. So you need to ensure that is well written and professional in approach. As in your profile, you need to emphasize the benefits, sell your skills and suggest a call to action.
Make sure the letter is personally addressed to the individual concerned – and triple check that you've spelt the name correctly. Names are very personal, and misspelling them is a sure fire way to kill a working relationship before it has even started.
If you have had contact with the prospect, either in person on the phone, try and make reference to something you discussed. This will help to establish that the letter is a personal response, not a standard reply.
A typical letter in response to a telephone inquiry might run as follows:
Dear John,
Thanks your enquiry regarding database consultancy services. As we discussed on the phone, I have considerable experience in this field, and would be free to work on your project from Monday the 15th.
I have undertaken similar work for hi-tech clients in the last two years, including a major project for Hewlett-Packard. The project sounds interesting and challenging, and would allow me to use my formal qualifications and practical experience to good advantage. I am committed to delivering excellent work, often to tight deadlines, and would welcome the opportunity to contribute to your success.
I hope the attached documents will provide all the information you need. But if you would like further information, please let me know. You can call me on 415 123 1234, or send an email to [email protected].
I look forward to hearing from you soon. Best wishes,
Your Name
How To Promote Yourself-Make The Presentation Count
So now you have all the materials for your presentation pack – profile, client list, testimonials and samples, plus a separate covering letter. If you're going to send the package by mail, or deliver it personally to a prospect in a meeting, it's worth investing in good-quality binding.
Again, first impressions count. A bundle of loose papers shoved into a folder won't impress anyone. A wire-bound presentation with quality report covers shows a professional approach.
Nowadays, however, most business communication happens by email. This is a big advantage, as it means you can get your presentation pack to a prospect within minutes of your first contact. There's a definite advantage to striking while the iron is hot – so make the most of it.
The simplest and most convenient way how to promote yourself and send your presentation pack is to use the covering letter as your email message, and add the other elements as attachments. But using attachments raises a couple of issues.
Firstly, if you have a number of samples to send, you could end up sending a long list of attachments which could be rather daunting for the prospect. You can resolve this by combining your profile, client list and testimonials into a single file, and keeping your samples to a sensible number. Three samples should be enough for most circumstances.
Secondly, there is the issue of file size. If you're sending graphics files, presentations or Acrobat documents, downloading them could be a problem for your prospective client. Try to select smaller documents, or warn the prospect in advance. Alternatively, you could post them on the web, so that he can view them online without downloading.
Thirdly, and most significantly, there is the virus issue. Sending attachments is an easy way to accidentally forward a virus, and many people are rightly wary of opening attachments.
Of course, you should install the latest virus detection software on your computer, to minimize the risk of picking up an infection and passing it on. Trashing a prospects hard disk is not a great way to generate business.

Getting Results Online and Reap The Benefits
Marketing your skills over the web is something we will address in more detail a little later. But as we are talking about presentation, we need to cover the subject briefly here.
After all, creating your own website is the most effective way to showcase your skills. All the elements of your presentation pack can be included on your website, with as many samples as you feel are required. Photos, graphics, presentations and even programs can be uploaded for prospects to browse at their leisure.
Here again, you need to be sure of making a good impression. If customers find your site through a search engine or directory, for example, it will be their first point of contact. If you don't achieve the right impact, they will hit the back button and try elsewhere.
OK. So you've created your presentation pack, you've launched your website, and now you're ready to do business. Now let's go out and make money.